PRESS
---


Message form Hiromi
Interview : "Divine Hiromi Omura sings 'TOSCA' in Japan"
Daniele Rustioni (Conductor), Alessandro Talevi (Director), Hiromi Omura (Tosca)16 & 19 Feb. 2017, Tokyo Bunka Kaikan (Tokyo, Japan)

YouTube : Tokyo Nikikai "TOSCA" cast message

---
"Otello, opera and high drama"
Keri-Lynn Wilson (Conductor), Hiromi Omura (Desdemona), Kristian Benedikt (Otello)

CTV Montreal

---

"Vogliatemi bene" from Madama Butterfly
Hiromi Omura (Cio-Cio-san), Georgy Vasiliev (Pinkerton),
Handa Opera on Sydney Harbour on March – April 2014, presented by Opera Australia.

YouTube : Opera Australia's Madama Butterfly – Exclusive Footage

---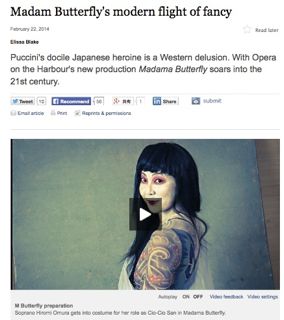 Madam Butterfly's modern flight of fancy
— Puccini's docile Japanese heroine is a Western delusion. With Opera on the Harbour's new production Madama Butterfly soars into the 21st century.
"Madama Butterfly"'s historical background and Hiromi's interview. (Handa Opera on Sydney Harbour 2014's new production / from 21 March 2014, Opera Australia)

Interview : Sydney Morning Herald

---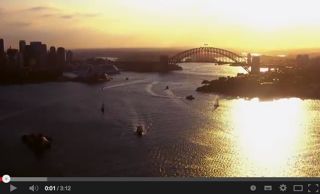 Handa Opera on Sydney Harbour 2014 "Madam Butterfly" — from 21 March 2014, Opera Australia
YouTube : O|A INSIGHTS: Madama Butterfly - An interview with soprano Hiromi Omura

---

Simulcast to take Opera to Qld's regions
Opera Australia will perform for audiences in nine Queensland towns and cities, from Townsville to Brisbane, at the same time.

Video in ABC News (2 Nov 2012, Australia)

---
Top of Page